Welcome back travel lovers! In our last post, Dubai, Hello! (https://travelblogcouple.com/dubai-hello/) we talked about the incredible accommodations and customer service to be experienced in Dubai. Today we're going to delve in the delectable, delicious and sometimes dromedary, FOOD!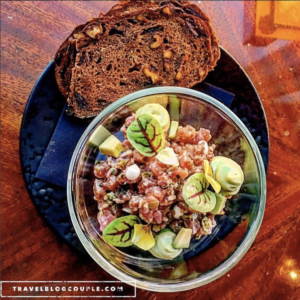 For those on a budget you're going to want to portion a large percentage of it towards dining experiences. Let me tell you, eating in Dubai is not just about the taste, it's about the views, the glamour, and the grandeur of the restaurants.
First of all, in all the hotels we stayed at there was a very inexpensive breakfast buffet. Think of any food you've ever wanted to have for breakfast and they will have it. They even make omelettes and pancakes right in front of you in minutes! FILL UP! Have 4-5 plates of heavenly breakfast! (This will save on over-spending on lunch because you're going to want to break the bank on supper!) Also, if you ask ever so politely they may even make you something by request; like eggs benedict and filet mignon: https://www.instagram.com/p/BFLLQzhvBuf/?taken-by=travelblogcouple
For lunch, just grab a snack by the pool or in one of their insanely large malls. Or, if you are the adventurous type, find a place that has camel burgers! Yes, that's right…camel. We tried the camel at the Emirates Palace Hotel in Abu Dhabi (day trip!) and it was extremely tasty! No major difference between camel and cow. The texture is just slightly finer, softer, and the taste has just a tad of gaminess to it, but if you didn't know you were eating camel you'd think there might have been a tangy sauce added to your burger.
For your final meal of the day you may want to make reservations depending on where you go. At the more well-known buildings like the Burj Al-Arab and the Burj Khalifa you will definitely need to make reservations. We HIGHLY recommend a seating that will include the sunset. That way you get to see unbelievable views during the last rays of sunlight and and incredible light show after the sun has set over the gulf. Now, don't forget, when you're dining at hotels or fancy restaurants you can buy alcoholic beverages and they are more than not cheap! (Note: Alcohol is not sold outside of hotels or fancy restaurants. If you want some for you hotel room make sure to purchase it at the airport in Dubai before going to your hotel!)
Spend one evening at Atmosphere, the restaurant at the top of the Burj Khalifa…in fact, book right now, before you even book your flights to Dubai, and request a window seat for the 5:30pm seating. The picture at the beginning of this blog is their tuna tartare and it's probably the BEST food I have ever eaten in my LIFE! And, of course, you can't go wrong with the view from the tallest building in the world. Duh.
Take an evening at the Burj Al-Arab (the building that looks like a sail) by grabbing a drink at Gold on 27 then hopping across the building to Skyview Bar for an eclectic meal in a sort of tapas style. Again, it's pricey, but well worth the experience. For aesthetics of the actual bar these two are the coolest!
And no matter where you're staying take a trip over to Raffles hotel and go for dinner just before sunset at Tomo! The views from this restaurant are so beautiful they have their own hashtag! (#tomoviews) Plus, if there's room, they have traditional Japanese seating style tables outside with the incredible view of downtown Dubai! (https://www.instagram.com/p/BFEn__HPBt9/?taken-by=travelblogcouple) Oh, and did I mention it's the BEST sushi? It is SOOOO good!
So, save your hard-earned cash for some of the most unique and luxurious dining experiences of your life! Next post we'll talk about what do people actually DO when traveling in Dubai! Until then….happy adventures!
The Travel Blog Couple
Kevin and Melanie
Thanks for reading and following us on Instagram!!! (https://www.instagram.com/travelblogcouple/)