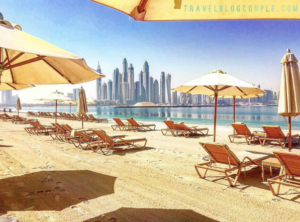 (From Fairmont The Palm – overlooking the Marina)
Dubai To-Do List – Travel Blog Couple
Alright, we've covered the hotels and the food, but what is there to do in Dubai?
In a word, tan. It is HOT and SUNNY, like, ALL THE TIME! There is no excuse to go to Dubai and come home without a tan. We will recommend super high strength sun tan lotion at first, though, until you get a base tan down, then switch to a tanning oil. You'll be the creamiest brown you've ever been!
If you can find a beach that looks out over the water back towards the city, even better.
And the water? You know how you walk to the edge of the beach, wait for the waves to bring the water to your toes and brace for the cold? Yeah, that doesn't happen. It is so warm!!! Just the perfect temperature to walk right in and take a long, luxurious swim. When you're done there rinse off the salt and sink into the crystal blue pools that every hotel has to offer. It just doesn't get any better than that!
There are paddle boards, catamarans, kayaks and jet skis for rent all over the place. Feel free to enjoy those at your leisure; they're very reasonably priced by the hour.
Definitely, definitely, definitely take a day trip around the city to enjoy the eclectic architecture. There are buildings there that I'm surprised are able to remain upright! And you'll love them even more when the sun goes down and the lights come on. They are a spectacle, to be sure.
Must see buildings include, but are not limited to, Burh Khalifa (duh), Burj Al-Arab (duh), the Dubai Mall (largest mall in the world – check) and Emirates Mall (actual ski hill indoors – what?) and a day-trip to Abu Dhabi to see the Emirates Palace Hotel and, drum roll please, the Grand Mosque. (OMG! https://www.instagram.com/p/BFCw2pkvBr9/?taken-by=travelblogcouple)
Other daytime things to do: ride camels, go dune buggying, watch belly- and Fire-dancers and wear authentic Arab garb. And the best thing is…you can do ALL that in one spot! But! Take our word for it. Don't cheap out on Groupon for this one. Pay the full price and get the most. It's called Desert Safari and it's a must-do!
Also, take a morning to go downtown to the Gold Souk and Spice Souk. The sheer volume of gold and spices is nearly overwhelming! It's an awe-inspiring assault to the senses! Be warned, though, you will be hounded by salesmen trying to get you to pay way too much for purses, wallets, watches, etc. But stay strong and don't pay full price for anything!  😉
If that's not enough check out this list from Trip Advisor for more: https://www.tripadvisor.com/Attractions-g295424-Activities-Dubai_Emirate_of_Dubai.html
So that's it for Dubai! If you have any questions on our travels or would like more info on places to go or see in Dubai please reach out to me at [email protected]!
We'll catch up with you again soon from our next stop….Colorado!
Thanks for reading! Safe travels!
P.S. Follow us on Instagram (@travelblogcouple) to see all the amazing photos Melanie takes from all our journeys!  🙂